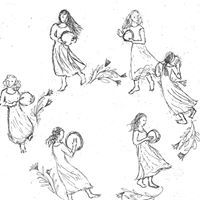 The Healing Magic of Rhythm Retreat
Celebrate the pulse of life with Inanna, Sisters In Rhythm and feel the nurturing warmth and healing magic of rhythm. 
We will design a workshop specifically for your center. 
Rhythm is in us and all around us. It was there from the beginning, in our mothers womb, as we listened to the beat of our mothers heart through the pulse of her blood. Our breath, our cells, muscles, bones our whole body understands the vibration that creates life.  Spring flowers, seasons changing, the moon cycles, the rhythm of earth all have a pulse that we resonate with on a very deep level. Rhythm is a great healer and with drumming one can be reminded of the place we hold in the cycles of life. In this workshop we will explore meditation with drumming, yoga with drumming, breathing with drumming, singing, sound healing, dancing and drumming in community, being a part of the whole song. We can offer more focused classes in frame drumming, djembe, bass drums, and small percussion, dunun dance and Zumba. These sessions will accommodate beginner, intermediate, and advanced students.
Plan a weekend with Inanna Sisters and get nourished through the healing magic of rhythm. 
Please email or call for a quote
Tori Morrill torimorrill@me.com  207.332.5892
Annegret Baier annegret@maine.rr.com  207.318.5202
Shirsten Lundblad  kiz@gwi.net  207.522.5158