Frame Drum Classes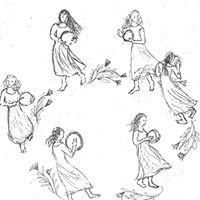 Hello, Drummers, 
I am reaching out to you to let you know that this coming year I will be offering both in person frame drumming classes and some zoom classes, as well as individual lessons (in person or on zoom). 
I will be teaching a mix of levels.  I also plan to make short 10-15 minute practice videos to send out to you to encourage you to pick up your drums on a regular basis and play.  Those videos will be offered free of charge, and donations are always gratefully received :-). 
The next in person classes at the Barn at Windpointe in Freeport, Maine are scheduled on Saturday February 25, Sunday March 12, and Saturday April 1.  The schedule for the classes will be from 1-5:00.  Please note:  from 1-3:00 is beginning and review of basics.  This is for anyone starting out on the frame drums (tambourine and tar), anyone returning after not playing for a good while, or for anyone who just wants support to practice the basics, stroke combinations, rhythmic patterns, vocalizations, stepping and playing, toning with our drums, etc.  From 3-4:00 is mixed levels: some days may include a check in/talking circle, or a rhythmic ritual with the elements, and/or a rhythm with parts that meet different skill levels, played together for a joyful polyrhythmic experience.  From 4-5:00 is for intermediate and advanced drummers. 
If you cannot attend live, but wish to study on zoom, please let me know, and indicate what level player you are, and what you are wanting from attending zoom classes. 
Once I hear back from folks, I will send out more specifics about the content of upcoming classes, as well as the sliding scale fees.  No one is turned away for lack of funds, and hopefully a sliding scale will meet your financial situations, help to cover the rent of the studio, and for the teachings. 
Thanks so much, everyone.  The world needs our play.  I have a photograph of my mother that sits on the piano, of her playing her snare drum in the alumni band.  I have attached a quote to the photo from William Shakespeare that I will share with you:  "I pray you……your play needs no excuse.  Never excuse." 
Play on, 
Shirsten
kiz@gwi.net