Giving Birth to Ourselves Frame Drum Intensive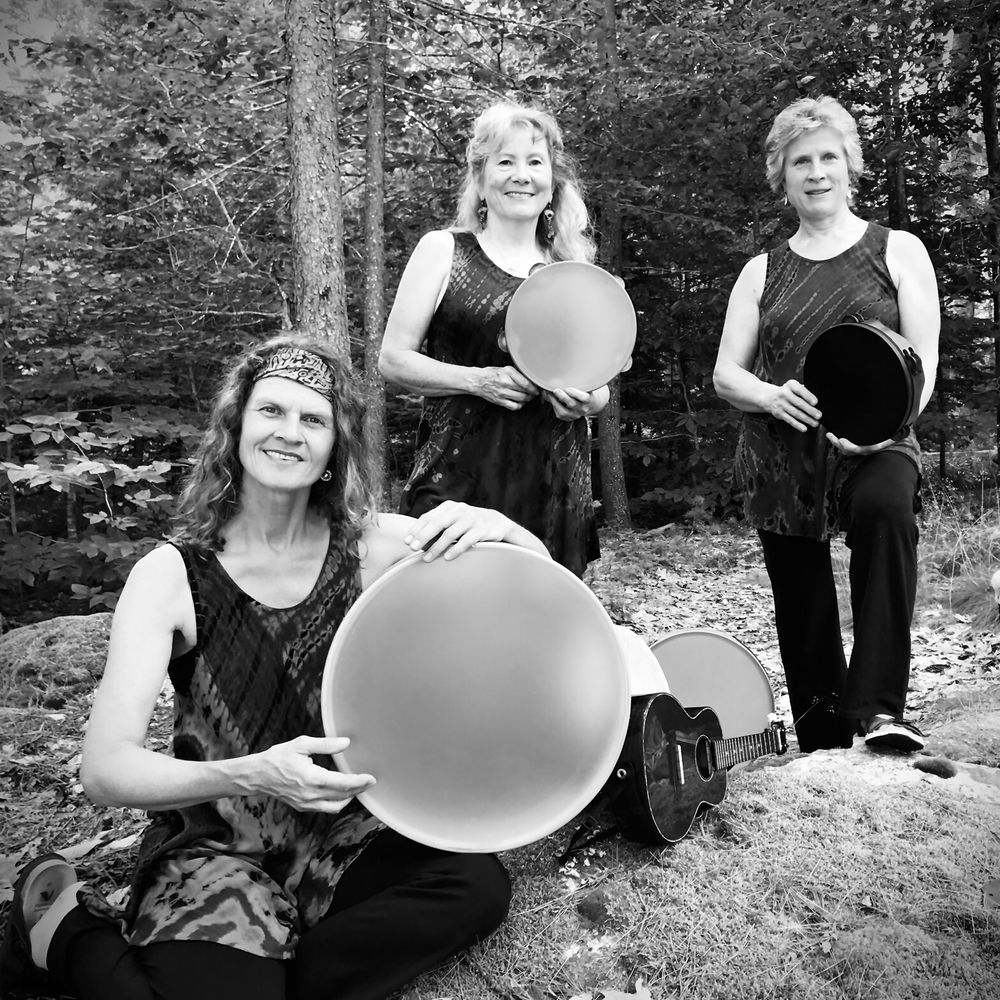 A six month program of intensive study, practice and play on the frame drum with Annegret Baier, Tori Morrill and Shirsten Lundblad
We are excited to announce we will be offering this course live online as well as in person. We use the zoom platform and the classes will be recorded on the cloud with access for a limited time.
We meet once a month: Saturdays 10:30am-4:30pm - May 13, June 17, July 15, Aug 12, Sept 9, and Oct 7 at the Barn at Windpointe, Freeport, Me. 
Drummers of all levels are invited to participate. The material presented can facilitate seasoned drummers to refine and develop their technique and play. Students new to the drum become fully initiated through this 6 month immersion. It is highly recommended to have participated in a frame drum class prior to the program. Shirsten has some beginner classes that you can attend- click here https://inannasistersinrhythm.com/frame-drum-classes
You will need to have a Tar and a Tambourine. Email us for advice about drums if you need help. 
We use the recorded material Layne Redmond and Tommy Be created for this program. Purchase here https://layneredmond.com/shop/ . It's required to purchase  both Frame Drum Intensive MP3 and Frame Drum Intensive MP4. You will need #1 - #6. These materials are essential, including the written instructional material that comes with these. Throughout the six months, students are encouraged to commit to an hour of practice a day.
The frame drum is a hand held instrument played in a variety of forms throughout the world since the beginning of time, for ritual, entrainment, healing, shamanic journeying, ecstatic celebration and fun! Together we will learn rhythms and techniques from the Middle East, South India, North Africa, and Brazil on the Tar and Tambourine, utilizing the curriculum created by Layne Redmond and Tommy Be called Giving Birth to Ourselves (GBTO).
The strokes of the drum allow one to connect with elemental energies within our bodies and in the world around us. Rhythmic practice synchronizes the brain and the internal pulsations of our body rhythms, and it allows us to connect deeply in community. Rhythmic play also invites an immense joy into ones being.
Fees: Sliding scale: $600 -$750 for this six month program. The price is the same for both online or in person. You are required to pay for the entire amount regardless of a need to be absent. Repeaters drop in fee: $55 per class
To Register: Email torimorrill@me.com or  kiz@gwi.net with GBTO in subject line - briefly tell us your experience with drumming and music, unless we already know you.
PLEASE NOTE: Deposit of $300 is due by April 14, 2023. (No deposit for Repeaters) Balance is due May 13. Click here https://inannasistersinrhythm.com/events and At the bottom of this page is a green button where there is another green button for $310 (This covers the finance charges when using a credit card or paypal). That is one way you can pay the deposit. If you'd like to avoid a finance charge you can pay with Venmo. Please contact Annegret Baier annegret@maine.rr.com or Mail check to Tori. Address is below. 
Payment Options: 
PayPal or Credit Card of which Inanna will add a service charge. Please email Tori torimorrill@me.com or call  (207) 332-5892 , If you would like to use that option.
Or write a check to Tori Morrill and mail to: Tori Morrill,  287 Iron Ore Point, Palermo, Maine 04354.
NEED HELP? "No Drummer Left Behind Policy" Please speak to us if cost is prohibitive. We may be able to offer a payment plan, barter, or scholarship funds to help those students who need financial assistance. Email Tori or Shirsten to make payment arrangements. torimorrill@me.com or kiz@gwi.net
If you would like to contribute to our scholarship fund please let us know. Any amount is helpful.
A Review by one of our Students:
"The frame drum intensive Giving Birth To Ourselves was a journey of self discovery and the beginning of a loving community of frame drummers that sustains me to this day! Shirsten and Tori lovingly led us through the material, modeling a compassionate and playful attitude toward learning new skills that challenged brain, body, and emotions. It was a wonderful immersion into the frame drum, as well as learning itself, and it has given me the lasting gift of ease in new situations, patience, and was responsible for taking a serious chunk out of my chronic perfectionism." Phyllis Capanna
A Quote by Layne Redmond
"Rhythm is a means of organizing sound into specific energy formulas to harmonize the mind and body. Chanting, rhythmic breathing and drumming form an ancient technology for directly synchronizing the mind/body complex, creating conditions for psychological and physical healing." Layne Redmond